Indian street foods need no introduction and aloo chaat is one of the popular, super delicious and addictive snacks which is much loved by everyone. In India, the street vendors prepare aloo chaat in an iron griddle, in which diced potatoes are fried to perfection until crisp and golden brown while at home potatoes can be shallowly fried, baked or air-fried.
Aloo Chaat is a popular street food snack from North India and the easiest chaats to make. Potato cubes deep fried or shallow fried till crisp and golden brown and tossed with basic chaat chutneys that are tamarind chutney and green coriander chutney, onions, ginger, green chilies and flavored with spices and garnished with sev and chaat masala. I have also added fried peanuts for that extra crunch. This Aloo chaat is a super addictive and mouth-watering snack with a melange of sweet, sour, hot, and spicy tastes. Enjoy this tangy spicy aloo chaat recipe.
HERE IS OUR RECIPE VIDEO OF ALOO CHAAT TO WATCH!
HERE IS THE PRINTABLE VERSION  OF THE  RECIPE!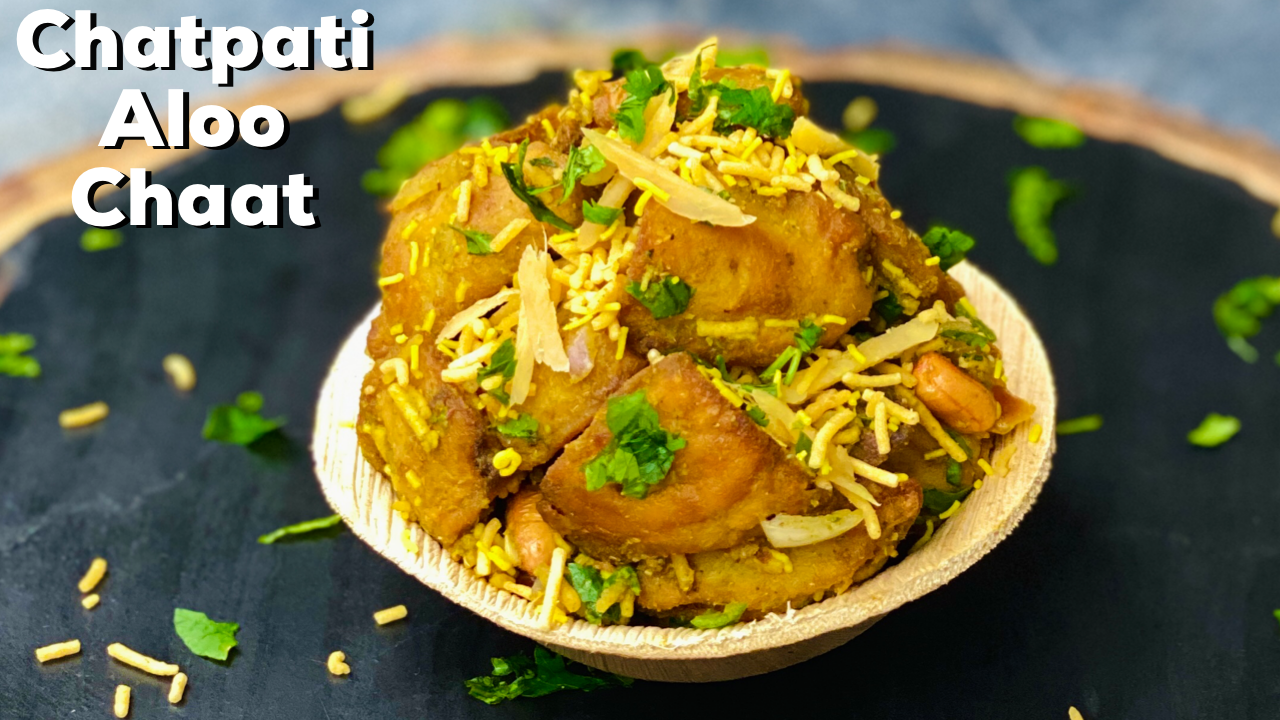 Aloo Chaat
Ingredients
Frying Potatoes
7

pc

Boiled potatoes

(80% boiled and cooled completely)

Oil

(for frying)
Aloo Chaat preparation
1

tbsp

Ginger

(thinly sliced)

1

Green chilli

(chopped)

1

tsp

Roasted cumin powder

1

tsp

Red chilli powder

2

tsp

Chaat masala

1/2

cup

Onion

(chopped)

2

tbsp

Tomato

(chopped(optional))

2

tbsp

Peanuts

(roasted/fried(optional))

2

tbsp

Green coriander chutney

1

tbsp

Tamarind chutney

2

tbsp

Bhujia

(sev)

1

tbsp

Lemon juice

Fresh coriander leaves
Instructions
Frying Potatoes
Potatoes should be 80% boiled and cooled competely for 2 hours.

Peel the potatoes and cut in medium pieces.

Fry them in hot oil on high flame till the outer layer of potatoes turns golden brown. Then fry on medium flame till crisp and golden brown.
Aloo chaat preparation
Transfer the potaoes in a bowl. Season with rock salt and mix well.

Add ginger, green chillies, red chilli powder, roasted cumin powder, chaat masala and combine well.

Add onions, tomatoes, peanuts, green chutney, tamarind chutney, bhujia, and combine well.

Add lemon juice, and fresh coriander. Toss gently.

Serve hot in a chaat bowl and garnish with ginger, coriander leaves, bhujia, and chaat masala.

Tangy spicy aloo chaat is ready to relish.
Notes
Potatoes have to be only 80% boiled and should be cooled completely.
The most popular Delhi-style aloo chaat is made by deep-frying the aloo. Potatoes can be fried or shallow fried in hot oil.
For a healthier option, potatoes can be roasted in Tawa with minimum oil, grilled or baked in the oven, or air-fried. Totally your choice.
For crispy potatoes, fry them on high flame till the outer layer is brown, then fry on medium flame till crisp and golden brown.
For variation, Aloo chaat can also be garnished with thick curd/dahi, tamarind chutney, then the spices, coriander, and bhujia if you like.
Tomatoes and peanuts are optional in this recipe. You can totally skip it.